NEWS
Leon's fourth volume of Haydn Piano Sonatas has recently been released on SOMM Recordings and has already been lauded as "one of McCawley's finest discs to date" by International Piano Magazine. See the whole […]
Leon will be one of Wigmore Hall's Artists in Residence during the 2021/22 season. He begins his series of four concerts performing late works by Haydn, Mozart and Schubert on 30th September and further recitals […]
Leon is so pleased to be giving another livestream recital at Wigmore Hall on March 19th, performing works by Schubert, Grieg and Schumann. This will be available to watch on all of Wigmore Hall's social media platforms […]
Leon is very happy to announce the new CD release of Haydn Sonatas Volume 3 on SOMM Recordings, now available online HERE. This is Leon's ninth disc on the enterprising SOMM label and continues […]
Leon's fourth volume of Haydn Piano Sonatas has recently been released on SOMM Recordings and has already been lauded as "one of McCawley's finest discs to date" by International Piano Magazine. See the whole review HERE.
Leon will be one of Wigmore Hall's Artists in Residence during the 2021/22 season. He begins his series of four concerts performing late works by Haydn, Mozart and Schubert on 30th September and further recitals will take place on 1st December 2021, 9th March 2022 and 29th June 2022.
Leon is so pleased to be giving another livestream recital at Wigmore Hall on March 19th, performing works by Schubert, Grieg and Schumann. This will be available to watch on all of Wigmore Hall's social media platforms for 90 days. Click HERE to watch the full performance.
Leon is very happy to announce the new CD release of Haydn Sonatas Volume 3 on SOMM Recordings, now available online HERE. This is Leon's ninth disc on the enterprising SOMM label and continues his exploration of Haydn's rich and varied sonatas following on from highly acclaimed Volumes 1 and 2. Look out for Volume 4 next year!
Leon has received an excellent review in Seen and Heard International of his solo recital and livestream at Wigmore Hall on 10th October: "He displayed enormous sensitivity and tenderness while also breathing life into the more dramatic elements of the work [Schubert Sonata D664] and the strong dynamic contrasts. McCawley's playing [in Janáčeks' On an Overgrown Path] was nuanced and insightful, crystallising the very […]
After several months of being unable to perform due to COVID restrictions, Leon is delighted to announce that he will give a solo recital at Wigmore Hall on 10th October. The programme will feature works that were scheduled in his cancelled April recital: Schubert's Sonata in A major D664, Janáček's On an Overgrown Path Book 1 and Schumann's Kreisleriana. The concert will be live-streamed […]
Leon's YouTube channel has expanded considerably during the lockdown and you can now find over 60 videos of his live concert performances there for easy viewing. Please take a look and subscribe to the channel HERE. Let the music play!
Leon was invited to be the Television Guest on the recent BBC4 TV broadcast of the BBC Young Musician 2020 Keyboard Final and joined presenter Anna Lapwood to offer his expert opinion on the five selected pianists. The programme is available to watch on BBC iPlayer throughout May.
Since many of Leon's concerts have been cancelled/postponed due to the pandemic, he has created some live recordings in his home studio of some of the repertoire he had planned to play in his spring recitals. Here is a trilogy of Grieg's Lyric Pieces to view here: Butterfly Op. 43 No. 1, Little Bird Op. 43 No. 4 and […]
Leon's recent performance of Beethoven's Piano Concerto No. 1 in C Major, Op. 15 with Royal Philharmonic Orchestra and Domingo Hindoyan has received a wonderful review in the Cambridge Independent:
"McCawley gave a spellbinding performance of this concerto…[he] was superlative in the first movement's lengthy cadenza (one of three Beethoven wrote for the concerto), and in the expansive and serene Largo where, towards the end, […]
Leon has received stunning reviews for his Haydn: Sonatas Volume II on SOMM Recordings from International Piano, MusicWeb International, BBC Music Magazine and Gramophone: 'Light of touch, stylistically assured and brimful of intelligence and wit, Leon McCawley's second instalment of Haydn sonatas for Somm fairly sparkles with delight'. Click here to read all the latest reviews.
Leon's latest release of Haydn's Sonatas Volume II for SOMM Recordings was featured today on Andrew McGregor's BBC Record Review (listen from 4:00 into the broadcast- available on the BBC iPlayer until 13th October):
"First some sparkling Haydn from Leon McCawley…this makes for an excellent opening. McCawley is a persuasive advocate for, as the booklet notes say, Haydn's 'airy charm', […]
Leon will make his sixth appearance at the BBC Proms on 31st August, performing John Ireland's Piano Concerto with BBC Concert Orchestra/Bramwell Tovey in a special tribute concert to Sir Henry Wood. The concert will be recorded and broadcast on BBC4 TV on 1st September. Book tickets here!
Leon has received a terrific 5 star review in France's Classica Magazine for his Schubert disc on SOMM: 'Leon McCawley seduces the listener by a spontaneous performance devoid of any sense of narcissism. Here is an album communicated with such tenderness, naturalness and sincerity'. For the full review and all the latest reviews of Leon's Schubert disc click here.
Leon's performance of Ravel's Oiseaux Tristes on July 19th was Suzy Klein's Highlight of the Week on BBC Radio 3's In Tune. He was interviewed on the programme in advance of his upcoming UK summer festival performances at Ribble Valley International Piano Week, Petworth, Manchester, Belfast and Machynlleth. Click here to listen to the performance.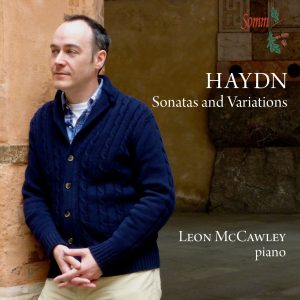 Leon's recently released disc of Haydn's Sonatas and Variations on SOMM has been awarded a Diapason d'Or in the July 2017 edition of French magazine Diapason. Reviewer Gaëtan Naulleau praises him highly: "What a range in his interpretation and how many layers of gradation! This is true of the whole album. Here and […]